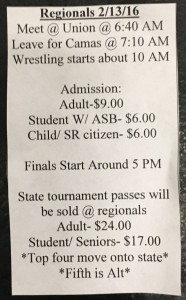 2016 WIAA REGION III 4A WRESTLING CHAMPIONSHIPS 
Saturday, Feb 13, 2016
 Camas High School
26900 SE 15th St
Camas, WA 98607
https://goo.gl/maps/Sj8hMByjoHQ2
6:40AM
Meet @ Union
7:10AM
Leave for Camas
SESSION SCHEDULE (approx.)
Session One (4 Mats):
10:00 am
Round 1 
12:00 noon
Round 2 (Champ. 2, Cons. 1)
2:15 pm
Round 3 (Cons. 2)
3:30 pm
Round 4  (Places 3rd – 4th and 5th – 6th)
Session Two (2 Mats):
5:00 pm
Introduction of finalists
Round 5 (Championships)
 ADMISSION:
Ticket prices are good for all sessions
Adult $9.00
Student w/ ASB $6.00
Child/Sr. Citizen $6.00
Acceptable passes:
Press Pass, WSCA, and WIAA Lifetime Pass
 **Mat Classic (State Tournament) All Tournament Tickets will be available on a pre-sale basis and will be sold on Saturday evening.
Ticket prices will be:
All Sessions Adult $24.00
All Sessions Student/Seniors $17.00
Single Session and All Day Tickets can be purchased at the Tacoma Dome.