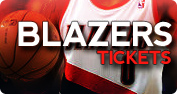 Our Wrestlers are selling Blazer Game Raffle tickets for $1.00.
Choose from two different games or buy raffle tickets for a chance to win both!
Game #1
Utah Jazz @ Moda Center
Jan 13, 2016
7:00 PM
Game #2
Sacramento Kings @ Moda Center
Jan 26, 2016
7:00 PM
Raffle ticket sale continues now through Dec 16.
To purchase your raffle tickets ask one of our awesome wrestlers or Coach Godinho.